She may be nicknamed the garden city or even the silicon valley of India, but ask the folks who live here and they'd rave about all the other reasons that make her their favourite. Of course, the weather tops the list, but the food isn't far behind.
The startup capital of India is a gastronomist's delight. From the latest cuisines and microbreweries to the hidden gems that are all-time favourites, the city leaves foodies spoilt for choice. But that's not all.
Ask a thoroughbred Bangalorean for their favourite tiffin place, which by the way, is a colloquialism for breakfast in Karnataka, and you'll have a long list. Oh, and add to that their favourite coffee place, which may or may not be the same as their favourite tiffin place.  
So, where do the local folk go when they are in the mood to devour some finger licking good idli-dosa or coffee? We've curated a list of 10 such places that the locals simply love. In no specific order, they are listed below:
#1. Hotel Janardhan, Race Course Road: The sheer number of people here at tiffin time is a clear giveaway of the popularity of this place. If you pick Hotel Janardhan, we suggest you first try their highly recommended dosa – the Sagu masala dosa (not too many offer this and these folks make it the best!). In this version of dosa, the potato-filling is replaced by creamy sagu made from vegetables. The crisp perfectly-browned dosas are simply delectable.
If you aren't in the mood for a dosa, try their chow-chow bhath. It's a perfect combination of sweet and savoury. To end the sumptuous breakfast, we'd pick their milky filter coffee. There is  another option to end the meal. This one is for those who love their meetha/dessert. Pick their gulab jamun, dripping in sugar syrup, or their badam halwa soaked in ghee. You'll definitely be back for more.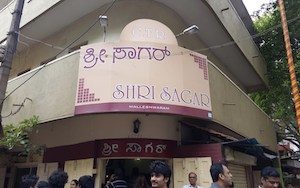 #2. CTR/ Shri Sagar, Malleshwaram: Nestled in the green hood of Malleshwaram, is this quaint place bustling with people. An unassuming place, CTR or Central Tiffin Room that now goes by the name of Sri Sagar almost reminds you of a railway waiting room but that doesn't take away from the food even a bit. Interestingly, it was founded by three brothers, of whom the youngest, Y.V. Ramachandran, was a freedom fighter. Well, that's not all. CTR has even played host to royal family of Mysore.
A favourite amongst the locals who make it a point to drop by frequently. Visit the place for the best benne dosa or butter dosa served with chutney. You won't miss the sambhar, we assure you!
Savour the taste of a crisp well-made dosa as it melts in your mouth. Seriously, there is no crisper dosa than CTR's! The decades old family recipe has ensured the fabulous taste continues to remain unchanged over the years. Of course, in true Kannadiga style, do end it with a cup of piping hot filter coffee.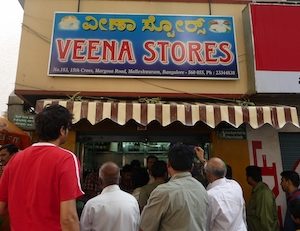 #3. Veena Stores, Malleshwaram: What started as a condiment store soon transformed into a place serving the best melt-in-your-mouth idlis, crisp medu vadas, and chutney. The hint of mint in the unlimited supply of chutney makes the visit completely worthwhile. If you're not one for idlis, try the delicious khara bhath or bisi bele bhath. All this by the way, will be served to you in eco-friendly disposable plates.
The only thing missing here is a place to sit, but the charm of the place overtakes this bit. You will definitely not be the only one standing on the pavement and downing their food. While you are here, do try the badam milk. Of course, you can't go wrong with a cup of their great filter coffee either.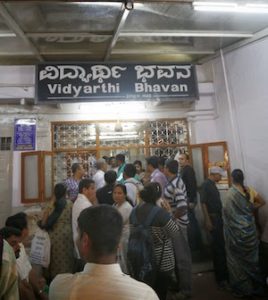 #4. Vidyarthi Bhavan, Basavanagudi: In the midst of the chaos of Gandhi Bazaar is this legendary eatery that just turned 75. Yes, Vidyarthi Bhavan has been around since 1943! What started as a canteen to cater to the needs of students – vidyarthis, soon evolved into a hot spot among the locals.
An idea conceptualised by Venkataramana Ural, from Saligrama (near Udupi), this small unassuming canteen changed hands over the years but little did that affect the service or food, which continued to remain authentic. Their proud heritage has received accolades in the form of hand-scribbled memories left behind by some well-known folks.
Visit here for the butter soaked masala dosas that are served with a generous helping of chutney. Not just the food, but the way it is served here is fascinating too. Look out for the waiter as he balances 15 plates of dosas at one go!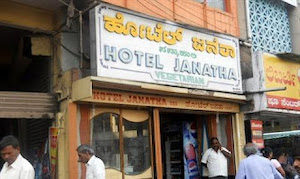 #5. Janatha Hotel, Malleshwaram: Another place that's a must visit for those perfect crisp dosas is Janatha hotel. This hole in the wall is tucked away and hence may go unnoticed by newcomers but it has its fair share of clients who have been visiting forever. Go here for the perfectly browned dosa and sambar combination and end it with an overflowing cup of filter coffee.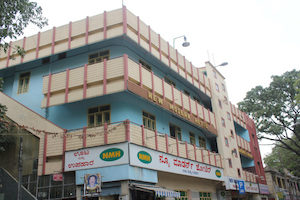 #6. New Modern Hotel, Basavanagudi: Another dosa haven. Head here for what some believe are Bengaluru's best masala dosas. We would suggest you skip the sambhar and choose the chutney for the real taste. The place is also famous for its badam halwa, which is generously cooked in ghee with the right amount of sugar.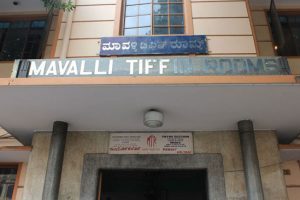 #7. MTR/ Mavalli Tiffin Room, Lalbagh: The legendary eatery MTR is a favourite among the locals. Their claim to fame is their Rava idli, which was introduced during the time of World War II when rice was scarce. Fascinating,  right? The dosa is pretty awesome too and interestingly comes smeared with green chutney on the inside. Leaving you craving for more. Of course their filter coffee in the small steel glass must not be missed.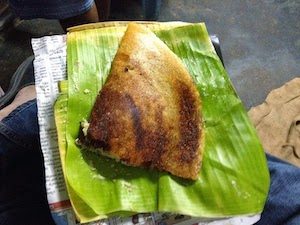 #8. Siddappa Hotel, Richmond Town: Head here for their famous half dosas. Yes, you read that right. The demand for the ghee-fried dosas is so high that the place offers you half a dosa. The thin, crisp dosas are made to perfection but if you want more, you have to get back in the queue! that is how the locals do it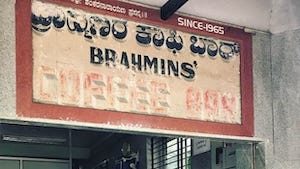 #9 Brahmins Coffee Bar, Jayanagar: if it's some hot melt-in-your-mouth Idlis that you are craving, then we suggest you make your way here. Brahmins' rice idlis served with a generous helping of chutney are legendary. So good is the chutney here that there is a man stationed at the entrance to refill it for you.!Their vada is delicious too and to end it, we'd suggest their filter coffee.
#10. SLV, JP Nagar: Head to this udipi-style restaurant for their rava idlis, set dosa and masala dosa. If none of them are on your mind, then indulge in  their perfectly brewed, frothy filter coffee.
Visitors to these eateries are sure to vote for their favourite place serving the best dosa but we believe they all are fantastic in their own ways! They all offer unique tastes, recipes, and perfection that make them lip-smackingly good. Interestingly, a trip to any of these places would definitely give you a taste of the true Bengaluru culture which involves sharing tables with strangers, waiting in queues, and eating like a king at a nominal price! So, gobble up to your stomach's fill. Happy eating!