Heritage and culture of Hampi is something that you would not like to miss if you are travelling to Karnataka. Ever visited a large, open-air, walk-in museum, with things to admire all around? Well, that's what a visit to Hampi will leave you feeling.
With the precariously balanced boulders that look like they've been placed by design – waiting to tumble any moment, to the beautiful ridges, the granite stones, the breathtaking sunsets, and the flowing Tungabhadra, Hampi is picturesque, to say the least. However, there's more to Hampi than just its geological offering.
The land of Hampi is also known as the abode of Gods and Goddesses. Numerous reliefs of lingas can be seen all over, as testimony to the thriving worship of Lord Shiva. At other places, he can be seen along with his consort, Pampa or Parvati, the daughter of Lord Brahma, the creator.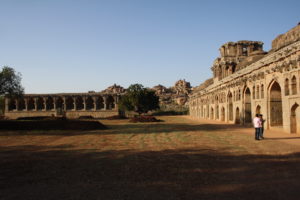 The famous Virupaksha temple is also dedicated to him, whereas Pampa lends her name to the famous Pampa Sarovar, a water body found here on the opposite bank of the Tungabhadra.
Explore Hampi using Augmented Reality. Download FlippAR Go to experience the musical pillars in AR

In addition to this, Kishkinda, in Hampi, also finds a mention in the famous epic – Ramayana. Known as the monkey Kingdom, Kishkinda is where Lord Rama met Hanuman, the Monkey God when he came looking for his wife Sita, who had been abducted by the demon king – Ravana.
While there are no definite dates that can be provided for these, one thing is for certain – that Hampi has seen human habitation for more than 3000 years. In its recorded history, Hampi has seen many rulers, but the Hampi we talk about today really came alive under the Vijayanagara empire from 1336.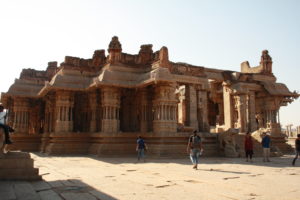 Under their rule, Hampi flourished and was believed to be the second largest city, after Beijing, in the medieval era. However, in 1565, in a catastrophic war, that lasted several months, the city was plundered and burnt, leaving behind the ruins you see today.
The History of the Vijayanagar Empire
The history of the city of ruins can be comfortably classified into pre-Vijayanagar and post. Recent excavations have traced Hampi's antiquity to the time of the stone age. Additionally, Buddhist panels dating to 1st and 2nd century BC have helped established an influence of King Ashoka.
Following repeated invasions by Muslim armies from northern India, Harihara and Bukka, two chieftains, were inspired by the saint Vidyaranya to establish a strong kingdom that would act as a bulwark against further attacks. Harihara I was the first emperor of Vijaynagar and  established his capital at Anegundi. The capital was eventually shifted southwards to Hampi.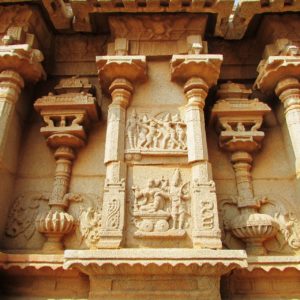 During the medieval era i.e. around the 14th century, Hampi saw a succession of illustrious kings from innumerable dynasties – Chalukya, Rashtrakuta, Hoysala, Yadava – ruling an extensive territory across Karnataka, Orissa, Andhra Pradesh, Kerala, upto Sri Lanka for more than two centuries.
Some of its most celebrated rulers include Harihara II, Devaraya, Krishnadevaraya, and Achyutaraya. Hampi continued to enjoy power and wealth till the battle of Rakkasa-Tangadi or Talikota, in 1565, with neighboring sultanates that ended in its collapse. The subsequent plunder and arson, which lasted six months, left it in the state of ruin we see today. This UNESCO site has more than 60 ruins.
Mythological Tales of Hampi
Pampa Kshetra: The story behind the name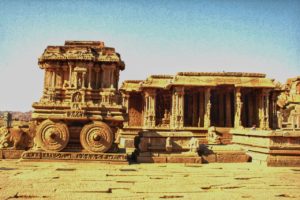 Hampi was originally called Pampa Kshetra, after Pampa or Goddess Parvati. Legend has it that Pampa, a brainchild of Brahma, the creator saw Shiva lost in yogic meditation on the Hemakuta hill and instantly fell in love with him.
She requested her parents to try and wake him from this meditation. Initially, her parents were not in favour of Shiva. However, upon Pampas insistence, the gods consented. Indra created Kama, the God of desire. Kama tried to wake Shiva up, but Shiva known for his rage, destroyed him with his third eye.
Pampa chose to undergo the same austerities as Shiva. She met him in his meditative state, to convince him to marry her. The unison of theirs is still highly regarded and used by people to refer to someone they want to call a perfect couple.
Ramayana
Kishkinda, a part of Hampi, finds mention in the epic Hindu mythology of Ramayana. As per Ramayana, Kishkindha was monkey kingdom. And it was here that Lord Rama and Lakshman met Hanuman, the monkey god, on their quest to find Rama's wife, Sita.
Sita had been abducted by the demon Ravana. Hanuman helps Rama find Sita, but in return asks the brothers to help his King Sugriva get back his rightful throne, which had been taken over by his impetuous brother Vali.
Vali is killed by Rama and Sugriva is crowned king by Lakshman at the famous Mathanga hill. With the help from Hanuman, who lit the entire Lanka, the place where Ravana had kept Sita in captivity, Sita too was safely brought back home.