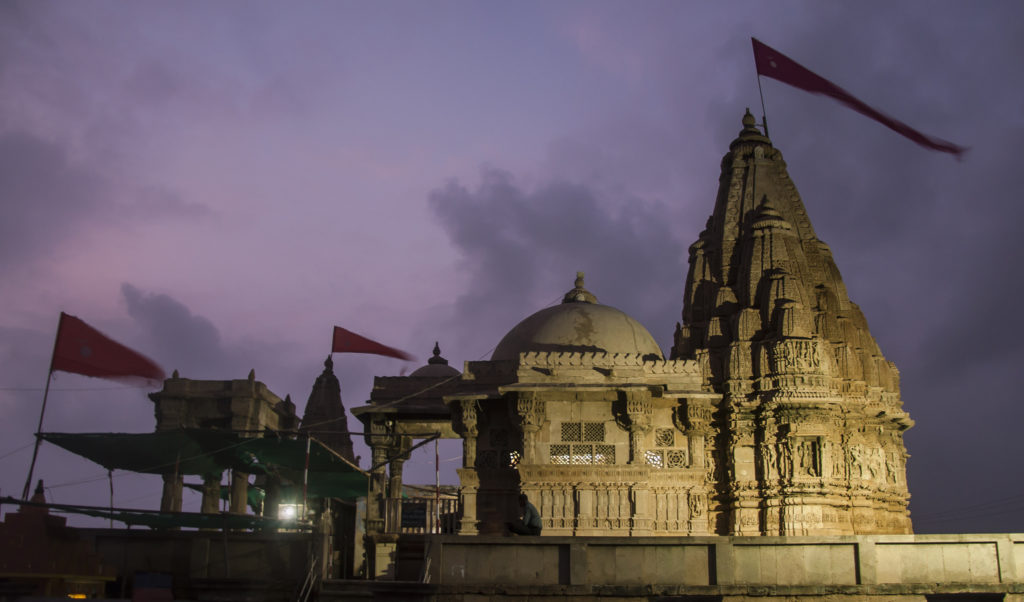 Standing in front of the Swarg Dwar or even from afar you will spot the 52 yards long flag furling. This is Dwarka Nath's abode. Dwarka temple you see in stone is 2500 years old. On the sides of the river gomti the temple of Lord Krishna, an avatar of Vishnu beckons lakhs of devotees.
This temple in Dwarka is one of the most important heritage sites in Gujarat.The best time to visit the place is Gokulashtmi or the birthday of Shri Krishna.
While you walking inside for the sanctum you will find the four-armed idol decked up with jewels and laced clothes. The black and white eyes of the idol are prominent. Many a times you will find 56 different variety of food items kept in front of the idol called 'Chappan Bhog' or fifty six sacred offerings. The best time to visit this temple is when the Arti in the early morning or afternoon or evening. 
Interesting facts:
Dwarka or the kingdom of Lord Krishna is a sacred pilgrimage site for Hindus all over the country.
The temple is situated on the River bank of Gomti.
Dwarka temple is the temple is over 2,500 years old.
The 52 yards long flag flying on its top symbolizing over 50 administrators of Yadava clan.  River Gomti is a rare tidal river and you can visit the many small, ancient and old temple situated nearby.
The sanctum of Dwarkadheesh (Lord Krishna) is all decked up in jewels and colorful clothing. The idol is in black stone.
Architecture:
The temple is supported on hugely built 72 pillars and the spire of the Temple dominates the skyline adored with the colorful flag. It is a sight to behold. It is 78.3 meters in height. The Niji or Jagat Mandir makes the sanctum sanctorum of Dwarkadheesh Temple.
Mythological Story:          
Krishna is said to establish the City of Dwarka. Many Scriptures like Bhagwadam have this place mentioned in the mythological stories and sung in folklore
The history is vast and taking us back to 2500 years ago. Shreemad Adyaguru Shankaracharya renovated the Dwarkadhish temple and established the shrine of Adyashaktthe at fourth floor. Pakistan navy attacked to destroy the temples but failed. Maharaja Gaikwad arranged to keep the golden pitcher on the summit of temple & Shankaracharya renovated the temple in 1958. In fact, it is the only temple summit which has been repaired even by the Britishers once.
Key points of interest of the place:
Lord Krishna depicted as Vishnu with four arms is the central deity in this temple.
Whats around: Beach walk, boating, River bathing
Things to do: Shore
Restaurant: Dwarka Restaurant and lot of dhabas
Local finds:
A must do: Watch Arti in the evening or early morning
Pro tip: No mobiles, no cameras are allowed, request a guide to help you climb up. Go on a time of flag changing time
Conservation: CEPT Ahmedabad was appointed by the Samiti of Dwarka for strengthening its sacredness
Cover Image Courtesy : Poonam Agarwal , License Here