During the first few times that I visited Mysore, I felt like a child lost in a fair. There is a lot of things to do in Mysore. I had absolutely no clue of where I was or what I was looking for, though I was surely impressed by everything I saw. The city gradually grew on me. Of course, through my repeated visits, some places became a must visit – like the palace of Mysuru, my favourite breakfast place, and of course, a visit to the mithai shop for my favourite – Mysore Pak.
These are some of the things I found interesting in Mysuru and they could probably work for you as well.
(Keep in mind that the city has so much more to offer beyond this list. So, if you are looking to explore, I'd suggest getting the FlippAR Go app. It offers a more elaborate list of places along with exclusive AR experiences.)
Without further ado, here is a quick 2-day itinerary of things you can do in Mysuru.
If you have 'only a day' in Mysuru:
#1. Explore the Markets
Cauvery Arts & Crafts Emporium at Sayyaji Rao Road:
The first Cauvery Emporium that opened in the country, the store offers a wide range of artefacts that are special to Mysuru's heritage. You can visit for artefacts that are exquisite and exclusive to this part of the world.
A short walk away is the Devaraja market, one of the oldest local markets with over 800 shops. Despite being branded as a very crowded market, I did not see too many people.  You can use FlippAR Go to dive into the 120 year heritage of this market.
Lunch @ Hotel RRR Restaurant
After a walk around the marketplace, step into the humble Hotel RRR Restaurant, a great place for a quick lunch. The restaurant serves delicious rice dishes, dosas, and filter coffee.
#2. Visit the Mysore Palace*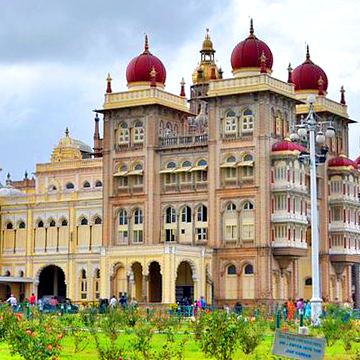 The Amba Vilas Palace, also known as Mysore Palace, is the crowning glory of the city. . Explore the rich history of the palace using FlippAR Go for authentic information in the form of audios, videos, and pictures. Also look out for the AR features exclusive to this stunning palace.
During the festive season of Dusara, the palace has a light and sound show every evening, from 7:00-7:45 PM.  This is a spectacle you do not want to miss.
Pro Tip: To make your visit easier, you can purchase your entry tickets beforehand through the Mysore Palace website.
#3. Dinner @ Indra Cafe Paras – Vegetarian Restaurant
Indra Cafe Paras offers a variety of vegetarian food to choose from. A small cafe situated on Sayyaji Road Road, this restaurant offers dishes such as dosas, idli and vadas, as well as North Indian cuisine.
#4. Authentic Mysore Pak @ Guru Sweets Mart and New Bombay Tiffanys
You cannot leave the city of Mysuru, without getting a taste of the famous Mysore Pak! Two of the most famous mithai stores for Mysore Pak are Guru Sweets and New Bombay Tiffanys. Guru Sweets Mart owes its lineage to the royal chef and inventor of the sweet Kakasura Madappa. Both the places offer lip-smacking Mysore Pak which basically crumbles on your tongue.
If you are planning a two-Day Trip:
#5. Visit to the Mysore Zoo*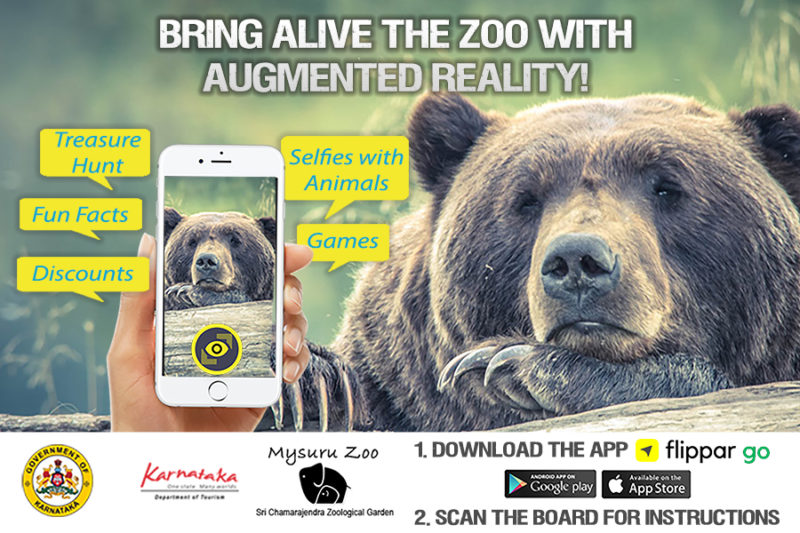 Sri Chamarajendra Zoological Gardens, famously called the Mysore Zoo, is said to be one of the oldest and best zoos in India. It is home to a large variety of animals including some rare species of birds, reptiles and other big cats.  If you intend to cover the entire zoo, do keep approximately 3 hours or so Here too, FlippAR Go offers interactive experiences, facts and you can also take fun selfies with the animals to remember the trip by.
#6. Lunch @ Vinayaka Mylari
For all the Dosa lovers out there, Vinayaka Mylari is the ultimate haven for fresh crunchy Mylari dosas. The humble little shop serves a limited menu including two dosas – plain and masala – which literally melt in your mouth.
#7. Bird's Eye View Of Mysore From Chamundi Hills*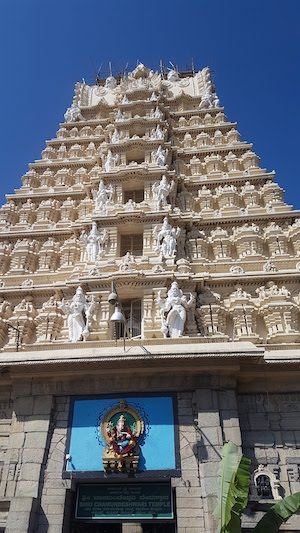 If you thought the up-close view of Mysore Palace does  enough justice to its fame, you will be delighted with the view from Chamundi. Take a drive to Chamundi Hills close to the city to view Mysuru in its shimmering glory at dusk. The hills are named after Goddess Chamundeshwari who slayed the demon king Mahishasura, after whom the city is named. Explore more about the legend using FlippAR Go.
Dinner & Drinks @ Gufha Restaurant
Gufha Restaurant is, as the name suggests, a cave-themed restaurant. The place is ideal to unwind after Chamundi Hills, offering a full bar, delicious  food, and decadent desserts.
If you are staying in Mysuru for more than two days, have a look at more curated travel experiences from in and around the city.
Read the 2nd part of the post here.
Cover Image courtesy : By Alin Dev [Public domain], from Wikimedia Commons
* Places augmented with exclusive AR experience through FlippAR Go
Please Note: All eateries in Mysore close down by 10 o'clock in the night, so plan your evening food expeditions accordingly.